Good Tuesday morning everyone!
I recently stumbled across a fabulous new blog called
A Bowl Full of Lemons
and spent an obscene number of hours looking through all of her posts! It reminds me a lot of Ashli's blog
Maillardville Manor
so that's probably why I like it! :o)
One of the features that really intrigued me was Toni's 21 Day Challenge. You can get more detailed information
here
.
I decided to join in even though the actual challenge has been done for quite some time. I don't know about you, but I've been bitten by the cleaning and organizing bug and would really like to get it done before we head in to fall. I may not follow the exact order of her challenges because of time restraints but it's my intention to complete all 21 days. Here's the first thing I tackled.....
Before #1
After
Sigh.....it was a lot of hard work but SO worth it!
Would you like to join me? I'd love to see a project you've completed today!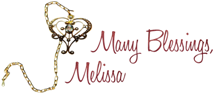 PS - Don't forget my giveaway
here
!