Wednesday, January 9, 2013
What a joy!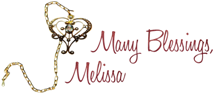 Posted by

Melissa
at 2:43 PM
1 comment:

Tuesday, January 8, 2013
Posted by

Melissa
at 3:16 PM
1 comment:

Friday, January 4, 2013
Happy New Year friends!
I can't believe it's been as long as what it has since I last posted...that was certainly not my intention! The truth is that I've wondered if I should keep blogging at all and entertained the idea of shutting Kaufman's Cottage down completely. I had to ask myself why I started blogging in the first place! Once I thought it through, I realized that it was never my goal to become one of those well known blogs with mega dollar giveaways, tens of thousands of readers and a picture perfect home. With all that being said, if you are still here and are reading this, thank you! I look forward to getting to know you much better and hope that you will take the time to comment occasionally.
Like many of you, our 2012 came and went in a blur.....here are a few highlights of what our year looked like:
My favorite craft project of the year!
He Has Risen banner for Easter 2012
Decoupaged Eggs for Easter 2012
Easter 2012
Our first garden 2012
Summer 2012
Replacement Furniture 2012
Replacement Furniture 2012 (2)
Brian's Seahawk Birthday 2012
A little bit of fall 2012
A recovering husband 2012
Christmas 2012
I pray that this year brings everyone nothing but blessings and happiness....thank you again for stopping by!
Posted by

Melissa
at 2:10 PM
1 comment: